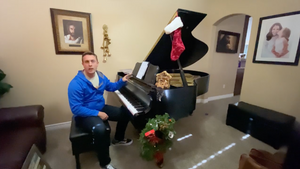 Are you a pianist that just wants to talk about music, get advice on composing, or just have a great conversation with a fellow musician/pianist? Great! Let's do it. Maybe you have a child or grandchild that you think could benefit from someone who loves the piano and with whom you'd like me to interact. I'd love to meet them.
This can be done via Skype, FaceTime, or a Google Hangout. Whatever works best for you! The call will last 30 minutes, and we'll then be best friends for life. Once you book, I will reach out to you directly to schedule a time that works well for both of us.
I look forward to meeting you!

*If you need more than 30 minutes, you can change the quantity in your cart and know that each unit is a 30 minute block.