Latest Release - "Peace Through Christ"
In Jon's words: "This song was written as a request for a song to play in Sacrament Meeting.
The request was actually to play a piano arrangement of the EFY song 'Peace in Christ,' but I thought about it and realized that most people probably wouldn't be moved by that arrangement unless they are very familiar with the song.
I suggested that pulling these two songs together would be much more powerful. The song begins with a pretty melody and then moves into 'Where Can I Turn for Peace?,' moves into 'I Believe in Christ,' and then ends with a very calm, peaceful, and simple version of "Where Can I Turn for Peace?" so that the listener can just focus more on how they feel than on what I am playing.
When I played it in church, the silence was almost deafening coming from the audience as I patiently played the final verse.
This is one of the most powerful arrangements I've ever written and I hope it is played by many more people over the coming years to bring more peace into their lives and into those that listen.
The answer to the question of "Where Can I Turn for Peace?" is powerfully answered in the title of a recent General Conference talk--'The Answer is Always Jesus.'"
Listen here.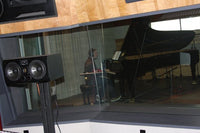 Recording at Counterpoint Studios
Counterpoint Studios is a world class recording studio located in the heart of Salt Lake City. Jon records on the incomparable Fazioli grand piano to bring the best sound possible to his compositions and arrangements.