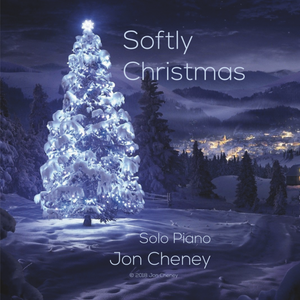 Nothing brings the spirit of Christmas to a home faster than music. "Softly Christmas" is a solo piano album that will not only accomplish ringing in the Christmas season, but will keep you coming back again and again to play the joyful melodies and fun arrangements that Jon brings to his music. With 13 tracks of original arrangements and songs, this intermediate to advanced piano book will challenge even the best pianist out there. Jon's style is soft and quick, and while it demands your attention, it is delicate in its approach to bring a melody to life. 
Take it from Stereo Stickman:
"The playing on this album is sensational, the opening tones having such a beautifully melancholic sense of urgency about them. There's certainly nostalgia in the melody that reignite certain memories, but there's something about Cheney's performance in this setting - the solo sound of the piano, the drama and the space - it feels like a totally original take a a musically brilliant thing to witness.
There's delicacy and magic throughout, always effortlessly beautiful and structured with passion so as to move through the various stages of the composition with grace or pace, depending on what's required.
There seems to be an enjoyable balance between broadly known classics and those that are a little less celebrated in the mainstream. This adds further to that inherent wonder that is the music as purely music - rather than as music for a certain time of year. Cheney's playing is just phenomenal, so natural and smooth in presenting these familiar moments but so incredibly inspiring when you really pay attention to the detail and the fluidity with which he makes his way through each piece."
If you would like to play along with the original recordings, this album can be streamed or purchased on all major music services. For convenience, here are the links to iTunes and Spotify.
Tracks included are:
Carol of the Bells Goes Major
Hark! The Herald Angels Sing to Light the World
Joy to the Little Drummer Boy
Twinkle, Twinkle, Stars are Gleaming
Mary's Lullaby
Do You Hear What I Hear?
Snowflakes Falling
Silent Night
The First Noel
Christmas Bells
O Holy Night
Picture of Christmas de Lune
Jingle Bells
This is a physical CD of the album "Softly Christmas," by Jon Cheney. The CD is autographed by Jon Cheney and can be personalized upon request.