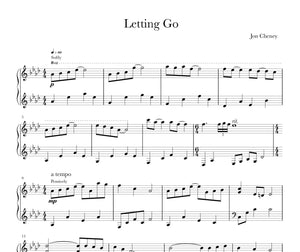 Join Jon on a musical journey in his newest single, "Letting Go." With intricate melodies, fast transitions, and plenty of feeling, this song will deliver something for everyone.
"Letting Go" is a story of somebody who is worried about life and things of which they can't seem to let go. As the song begins, a soft intro leads into a simple melody that leaves the listener feeling slightly heavy but getting lighter. Then, the melody becomes even simpler and open, almost as if the person is now alone and really paying attention to what they feel. There is a bit of hope in the notes, but something is still lacking. Then, the fast and exciting part of the journey comes. More triumphant melodies and patterns follow shortly, indicating that the person is working through their feelings and coming to terms with whatever is bothering them, or better yet, learning how to accept those things. At about the 3:45 mark, there is a release and a soft melody that finally shows peace has been found. The rest of the fast section is a celebration of that newly found freedom. The song then ends on the simple melody from towards the beginning, but with a new sense of happiness backing up the melody and a reminder at the end that they are happier now and content with who they are.
This song is extremely fun to play, is likely for an advanced intermediate to advanced student, and would be an amazing solo piece for a recital or other performance.
You can listen to "Letting Go" as track #1 on the album "Back to Basics" by Jon Cheney. The song can be listened to on all major music services, including Apple Music, Apple Music, YouTube Music, Spotify, and more.
This sheet music is also available in a bundle with "Learning to Love" here.