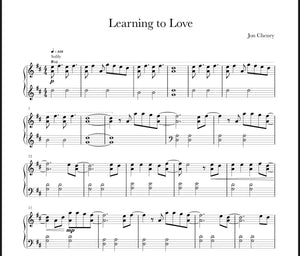 "Learning to Love" is the second iconic song from Jon's newest album "Back to Basics." The song is soft and sweet, while providing a lively mix of styles and feelings throughout the piece.
The story behind this song is more private in nature, but tries to evoke the journey of feelings that falling in love typically follows. Soft and sweet, but fun at the same time. Learning to love is different than falling in love, however. Remembering how to love is more what this song focuses on. There are elements of falling in love that are portrayed through music, and this song could accurately be portrayed as a love song. There are words associated with the notes, and they may be released at some point.
You can listen to "Learning to Love" as track #3 on the album "Back to Basics" by Jon Cheney. The song can be listened to on all major music services, including Apple Music, Apple Music, YouTube Music, Spotify, and more.
This sheet music is also available in a bundle with "Letting Go" here.