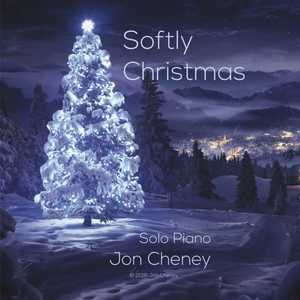 This is an autographed physical version of the piano book for the album, "Softly Christmas," by Jon Cheney.
This album can be streamed or purchased on all major music services. For convenience, here are the links to iTunes and Spotify.
Tracks included are:
Carol of the Bells Goes Major
Hark! The Herald Angels Sing to Light the World
Joy to the Little Drummer Boy
Twinkle, Twinkle, Stars are Gleaming
Mary's Lullaby
Do You Hear What I Hear?
Snowflakes Falling
Silent Night
The First Noel
Christmas Bells
O Holy Night
Picture of Christmas de Lune
Jingle Bells
PDFs of individual songs are available for purchase as well at https://joncheney.com in the "Softly Christmas" collection.